Creativity in Advertising – When to keep it in minimal & maximal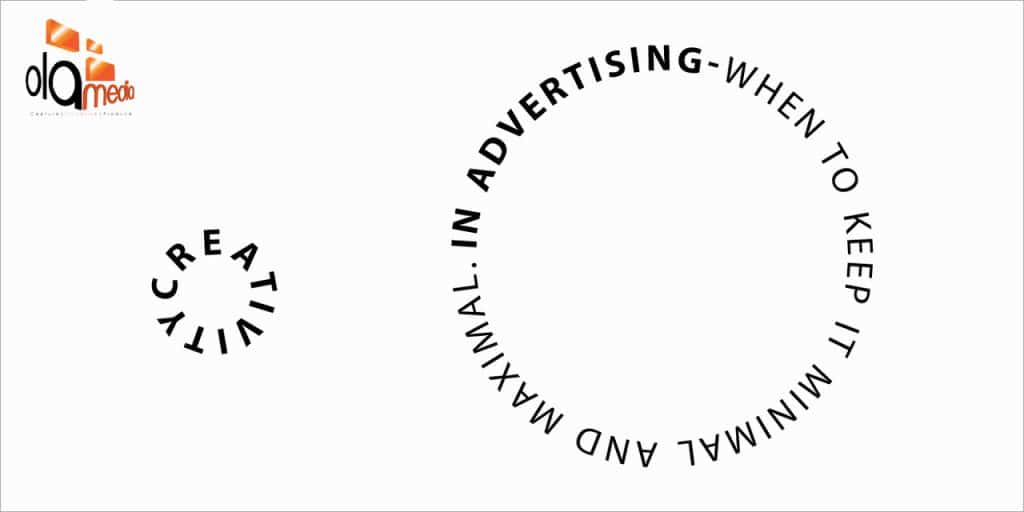 Creativity is at the heart of both advertising and branding. We simply cannot deny that creativity is the key factor that makes the real difference in the manner in which we communicate whether in advertising or at work. Advertising agencies are known to infuse creativity into advertising campaigns so that messages about different products and services come alive and the products are able to establish a place for themselves in the minds and hearts of the target audience. Companies rely on good advertising companies for the effective development and design of advertisements and campaigns.
Advertisers are always turning to creative agencies for fresh ideas; however, they are often reluctant at hyper-creative or overtly abstract messages. There is a very thin line that exists between a subtle, unclear message and pretty obvious message.
Creativity is an important element but it should always be supported by findings of test market research. When the best advertising agency in India creates an advertisement, it would be conducting extensive research on the product, the target audience, the media that may include indoor, outdoor, Television, magazine, radio, and even the Internet advertising.
Moreover, the audience characteristic plays a pivotal role impacting advertisement creativity and the implementation method. All these factors would be determining whether the advertising agency in Gurgaon would opt for minimalist or minimalist advertising.
Minimalist & Maximalist approach in Advertising
Minimalist advertisements are quite popular in this digital era but it is quite challenging to come up with such an ad as that would be necessitating an exceptional idea. In this context, you may know that the success of a minimalist advertisement is reliant on iconic brands, people, places, and items. You should understand the importance of advertising in putting across a company's message to its target audience.
Often successful ads embrace the maximal approach and they may contain a tremendous amount of content and even colours. Similarly, sometimes when you follow a minimalist approach, you could just highlight a specific strong message in the advertisement and include nothing else. This could be generating a consistent chain of reactions and associations and would be assisting in grabbing consumer attention in a big way. You could simply consider capturing a single image without resorting to any excesses.
Renowned advertising companies in Kenya choose the minimalist or the maximalist approach depending on the product, the target audience, the test research findings, and many other relevant factors.
With the advancement of technology, today creative teams are able to generate more flashy and complicated advertisements and deliver these maximalist ads in a number of ways. Nowadays the television, the mobile phones, and the Internet are flooded with advertisements. People are often perplexed by the sheer volume and complexity of such ads and often they fail to grab consumer attention. As a contrast to this, minimalist advertising could achieve phenomenal success.
A solo sound could be grabbing consumer attention. Often a complex mix of sounds could seem like a noise. The same is true in the case of visual perception. A single visual element could attract a lot of attention while it could be a flop show if your advertisement has too many visual elements competing with each other to grab your attention. This may be regarded as visual noise and your target audience may disregard this completely. Often reputed advertising agencies use minimalist advertising for stripping out the visual noise from ads and focuses on a single visual message, instead.
Advantages of Minimalist Ads over Maximalist Ads
Top advertising agencies take immense pride in their creative teams who have the capacity to understand what would be working best for a certain advertisement. Minimalist advertisements are huge hits and often memorable. Since the creative team needs to concentrate only on one visual element or a singular noise, they get enough scope for manipulating the negative space effectively to draw consumers' attention. When viewers are coming across a maximalist ad with too many elements, they would be devoting some time to each element. Viewers would be concentrating on a single message in case of a minimalist ad and this could enhance brand recall.
It is up to the advertiser and the creative agency to choose either the minimalist or the maximalist way depending on the demands of the situation, product, and other factors. However, the current trend is toward 'less is definitely more' in advertising.